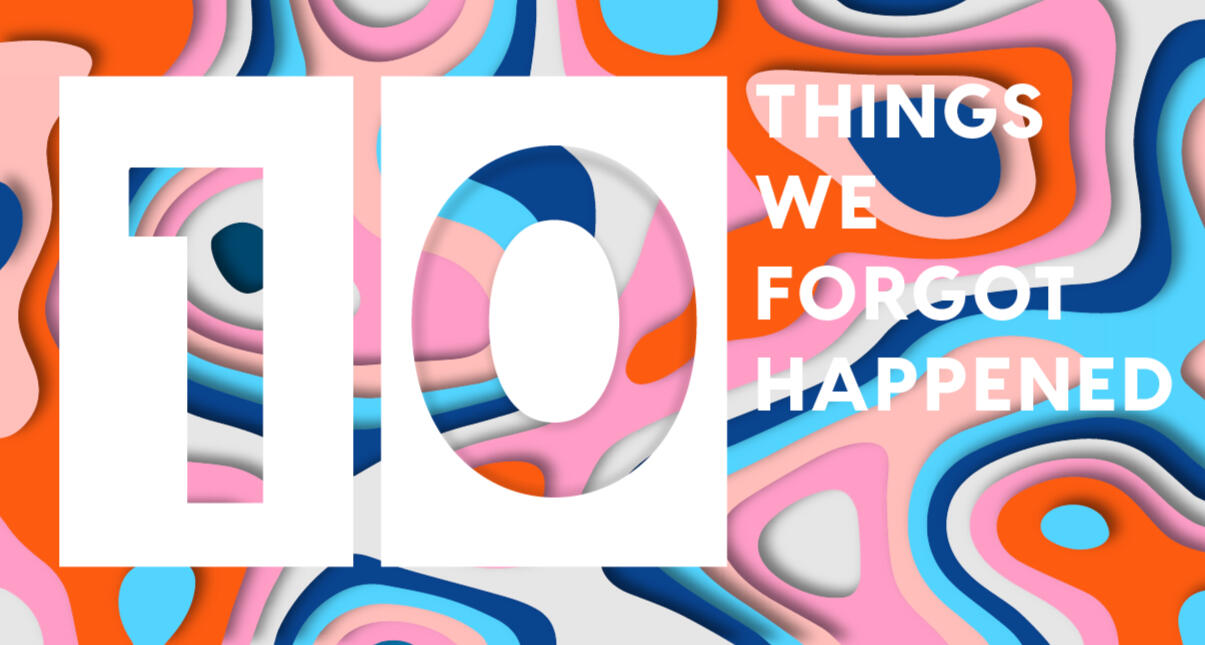 Alt-Copy by Sarah Bledsoe
As a decade of never ending reality TV, countless memes and extensive amounts of drama comes to a close, the time for reminiscing on the past 10 years' highlights is upon us. Whether it was the election of the 45th U.S. president or the launch of one of the largest social media platforms — Instagram — this decade is one for the books. But you might not remember every groundbreaking app release or iconic moments from the 2010 decade, so sit down and get ready to be thrown back into your childhood with a few headlines that probably slipped your mind.
---
The Royal Wedding
As I dragged my brother out of bed at 5 a.m. on April 29, 2011, I anxiously awaited watching Prince William of Wales and Catherine Middleton say "I do" in one of the most lavish weddings ever. The wedding was one of the biggest events of the year, with 22.8 million people tuned in to see the bride's entrance. Flashforward nine years and the television is instead focusing on the couples three beautiful babies — although the same cannot be said for William's hair.
---
Gangam Style
I'm pretty sure I could recite all the words to the "Gangnam Style" chorus right now. All because a man doing a horse-riding dance move created a worldwide phenomenon and a dance that will go down in history. When South Korean musician Psy released "Gangnam Style" in July 2012, the music video became an instant hit and was the first ever Youtube video to reach a billion views. "Gangnam Style" will forever be the anthem of 2012.
---
Hannah montana ended
No matter how many reruns of "Hannah Montana" I watch, it will never be the same after Miley Cyrus took off her wig for the last time in 2011. Even though it doesn't seem that long ago, Miley has changed a lot since her Disney Channel days, let's not forget the time she rode a wrecking ball half-naked, married and divorced Liams Hemsworth — a true tragedy — and is now dating Cody Simpson. But, no matter what, Hannah Montana's last performance marked the end of childhood for a lot of us Gen Z babies.
---
"THE DRESS"
While a lot of social media trends bring the world together, they can also cause a major divide — even when the argument is simply the color of the dress. In February 2015, a dress originally posted on Tumblr became an internet craze. This argument over whether the dress was black and blue or white and gold lasted for weeks — I promise it's blue and black.
---
SAME-SEX MARRIGE LEGALIZED
While I'm pretty sure everyone knows that same-sex marriage is legal in the U.S. it's surprising how recently it was legalized. With the world becoming a vastly more accepting place, it's shocking to think that only five years ago same-sex couples were not allowed to be legally married country-wide. So when the supreme court ruled on June 26, 2015 in the case of Obergefell v. Hodges that same-sex marriage a fundamental right, I know millions of people jumped for joy — myself included.
---
HARAMBE
After a 3-year-old boy fell into a gorilla enclosure, a zoo keeper shot and killed a 17-year-old gorilla out of fear for the boys' life. The result was immediate public backlash towards this gorillas untimely demise — I mean come on even my dad cried at the video. Hashtags like #RIPHarambe, #Harambe and #shirtsoffforHarambe spread all throughout Twitter. The video of Harambe being shot and killed reached millions of views and stood as a representation of the cruel living environments zoo animals are put in — #Harambeforever.
---
TOTAL SOLAR ECLIPSE
Whether you were sitting in science class or out for a walk, everyone and their cousins were carrying around Solar Eclipse glasses on Aug. 21, 2017 — well everyone except for Donald Trump. The Total Solar Eclipse is a rather rare sighting due to the fact that it only occurs when the moon blocks 100% of the solar disk — making the one in 2017 the first Total Solar Eclipse since 1918 — a once in a lifetime sighting.
---
VINE DIED
With all the spin offs of Vine, Tik Tok and Music.ly being a few of them, it's hard to believe the company that owned Vine went bankrupt and shut down in 2016. While this doesn't mean you can't still watch the best Vine compilations on Youtube on loop for 24 hours (not that I do that), the app will definitely go down in history as an amazing entertainment app for your daily fix of a potato flying around a room.
---
KILLER CLOWNS
The great clown panic of 2016 swept through the nation, with a growing social media presence of clowns wandering around the world. What started in early January in the UK spread across the world. Creepy clowns were literally showing up and scaring young children — just furthering the irrational fear of clowns. The phenomenon spread all the way to East when the school went into lockdown after a social media outlet posted supposed sightings around our campus.
---
FLAPPY BIRD
Does anyone else remember when people were buying and selling phones with Flappy Bird installed on them for thousands of dollars? Well it definitely happened back in 2014 when Flappy Bird was removed from the Apple Store because of the addictive nature it generated. The game's sudden popularity and abrupt removal made phones with Flappy Bird sell for $10,000 on Ebay.
---